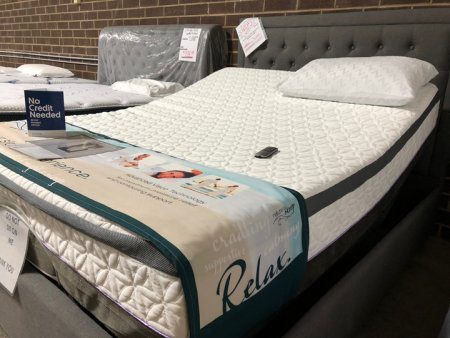 High value
Factory mattresses new up to 80% off retail, call now to book!
High demand
Limited spots for service and items in stock today for highest discounts!
Limited Amounts
Our small location allows us to give you the best bang for the buck, but limits us to the amount of items we keep in stock!
We offer 30-80% OFF
Manufacturers Suggested Retail Pricing (MSRP)
Mattress Outlet is a family owned Mattress, Bedding and Furniture store based in Hickory, North Carolina. Since 2013, Mattress Outlet Hickory has served and saved customers $100's to $1,000's in Catawba and surrounding counties including Hickory, Newton, Bethlehem, Granite Falls, Lenoir, Statesville, Lincolnton, and more! Mattress Outlet Hickory offers 30-80% OFF Manufacturers Suggested Retail Pricing (MSRP) on mattresses, bedding and furniture.
Mattress Outlet Hickory is an authorized dealer of several brands including: BeautyRest, BeautySleep, BoxDrop, Diamond Sleep, Leggett & Platt, Nature's Sleep, Nectar, Royal Heritage, Sealy, Simmons, Sleep2win, etc. Our inventory moves out fast, changes often and is always new.
Hickory, North Carolina;
Adjustable Beds & Mattresses from Mattress Outlet Hickory.
LUXURY FOR LESS! We typically save our customers up to $1,000 on a mattress/adjustable base combo. If you have been thinking of an adjustable bed or shopped in the past and they were more than you wanted to spend let us help you get what you want!
We have a variety of styles, models and sizes to choose from. Please call 828-414-1894 to schedule your individual time to try them and pick your favorite.
A private label that offers Premium Quality at great Savings.
Made in the USA and Factory Direct from a National Manufacturer that makes private label products for large well know retail mattress & furniture stores.
Sapphire Sleep is a major brand name we've been offering for some time. They are premium quality and comparable to tempur-pedic. The line of Sapphire Sleep adjustable beds and the gel/memory foam items are being promoted in our store. We offer discounts up to 70%.
Premium Sapphire Sleep Mattresses are carefully assembled for your comfort and we've spent decades researching the perfect ingredients for a perfect sleep. The key to a more elegant night's sleep is found in Sapphire Sleep.
Rest, relax, and Rejuvenate with Sleep2Win. Who doesn't want the best? Smart beds are the future of sleep, delivering the very best comfort and proper body alignment for your overall well-being. For those who love a truly luxurious feel at night and high-energy mornings, a smart bed like Sleep2Win is the best choice.
Sleep2Win gives you the most advanced smart bed on the market at a better price than the older technology smart beds. Plus, you can use any adjustable base and avoid paying for smart beds that force you to buy their overpriced bases.
Jason Rodriguez & James Carson
¿Habla

español?

Mattress Outlet Hickory es una empresa familiar local que ofrece colchones y accesorios para colchones en el área de Hickory, Carolina del Norte y sus alrededores desde 2012. Mattress Outlet Hickory ha ganado "The Best of Hickory" durante 4 años consecutivos por The Hickory Daily Journal. como resultado de nuestra forma de interacción y apoyo a las personas que viven en y alrededor del área de Hickory, Carolina del Norte, incluidas Bethlehem, Charlotte, Lenoir, Morganton y las áreas circundantes.

En Mattress Outlet Hickory, nos enfocamos en una experiencia de compra de colchones de calidad. Tenemos una exhibición completa de colchones y camas inteligentes con interacciones de aprendizaje basadas en productos con cada cliente de colchones que entra por nuestra puerta. Nos enorgullecemos de alcanzar o superar cualquier precio que podamos ver. Combine un excelente precio con una experiencia relajada y tendrá Mattress Outlet Hickory.